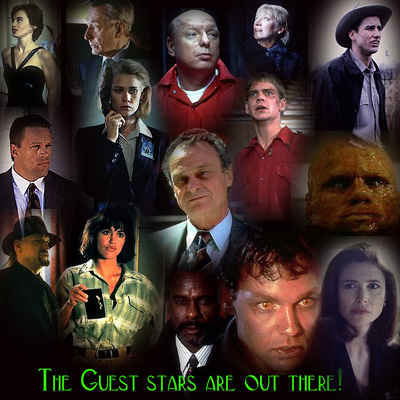 ---
Though the concept of the X-Files is to showcase two FBI agents investigating paranormal events in our world, they still have to interact with people. In that respect, the many talented actors and actresses that have graced the series in the past seven years has only enhanced the overall quality of the show. Some of the guests look very familiar while others do not. Then there are those that have been lucky enough to appear in the series only to find further fame and fortune elsewhere. These are just a few.
Unfortunately, I was not able to get *every* actors' or actresses' picture for this as well as *every* piece of work they've done. I have a life, too! But I will include their more notable work or stuff that most people may have heard or seen. Hopefully, you have enjoyed their appearance on the show and have supported them in their other endeavors. All the info of the actors was taken from The Internet Movie Database (http://us.imbd.com). If I am missing someone or if you have any pics of them on a particular episode, please let me know. I would greatly appreciate it! Hope you enjoy!


[Season 1] || [ Season 2 ] || [Season 3] || [Season 4]
[Season 5] || [Season 6] || [Season 7] || [ X-Files Movie ]
---
Please use the "Back" button on your browser.
HTML Page Design & Copyright © XFManic, 2000
This is an unofficial fan site. It is not sponsored, licensed, or approved by Chris Carter, Ten-Thirteen Productions and the Fox Network. No copyright infringement intended.