UNITED WE STAND

This was taken during my trip to Manchester, England in October 1999.
If you are here, you must not like the rest of my site. =(
So you want to get to know me? Currently, I'm working for a graphics vendor of a major financial institution in Charlotte, NC. I used to work for the financial institution itself until they laid off my dept back in May 2002. This is not what I studied in college. My major was in journalism, particularly critical writing. I went to school at Miami University in Oxford, Ohio. It's the same one that NBA players Ron Harper and Wally Szerbiak went to school.
I am a major golf addict and play as often as time and finances will let me. I also watch it just as much as I do "The X-Files." But now that is over, I have been addicted to "Stargate SG-1" and "Smallville". Some other interests include watching movies, reading John Grisham novels, writing X-Files related stuff, taking road trips, bike riding, sweating through Xbox games, surfing the Internet, loving my cats, shooting pictures, listening to music and travelling/visiting other countries. I was fortunate enough to meet people from England via the Internet and made the trek to visit them in October 1999.
As for my ethnic background, would you like to guess? Send me an email if you are curious. Hint: if you think Japanese or Chinese, don't even bother.
The rest of this page has some more info about me. Hope that settles your curiosity.
---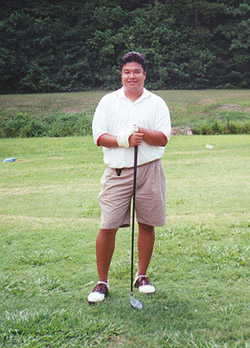 Real Name: Eddie
Birthday: June 28
Zodiac Sign: Cancer
Marital Status: Single/Never Been Married
Height: 5ft 11in
Favorite Beverage: Mountain Dew and Smirnoff Ice
Favorite Food: Japanese, Chinese, Pizza and a good old-fashioned Cheeseburger
Favorite Things to do on Weekends: Sleep in late, watch movies, play golf, go biking, play Xbox video games, go to the mall, hang out with friends
Hobbies: Golf (picture on the right is from Summer 2000), collect X-Files paraphenalia, shop on-line for knick-knacks, sketch, write fanfic, emailing, chatting, HTML
Favorite Authors: John Grisham, Jane Austen, Shakespeare
Favorite Actors: Michael J. Fox, Harrison Ford, Tom Hanks
Favorite Actresses: Jodie Foster, Kristen Scott Thomas, Julia Roberts
Favorite Movies: Too many to list but here's a sample - Star Wars trilogy, James Bond films, Back to the Future trilogy, BBC's Pride and Prejudice
Favorite TV Shows: X-Files, Andromeda, Stargate SG-1, any Star Trek series (including the recent Enterprise), Smallville, NYPD Blue, Friends, ER, JAG
Favorite Music: Classic Rock, 80s Music, Dance and R&B
People I would most like to meet: Tiger Woods, Jack Nicklaus, Michael Jordon, Pete Sampras, Jodie Foster, John Grisham, Chris Carter and, of course, David and Gillian
Famous people I have met: (before he was Vice President) Al Gore, Sally Struthers, Paula Cole, SmashMouth, Bruce Harwood (Byers) and Steven Williams (Mr. X)
In October 2000, I was lucky enough to meet some Star Trek:Voyager actors as well as a couple of ST:Next Generation actors in Los Angeles: Robert Beltran (Chakotay), Robert Duncan McNeill (Tom Paris), Garrett Wang (Harry Kim), Robert Picardo (Doctor), Ethan Phillips (Neelix), Tim Russ (Tuvok), Roxann Dawson (B'Elanna Torres), Jonathan Frakes (William Riker) and Michael Dorn (Worf).
States I have lived: California, Ohio, Virginia, Indiana, North Carolina
Countries outside of the U.S. I have visited: England, France, Spain, Italy, Greece, Sicily, Egypt, Israel, Cuba (Guantanamo Bay), Mexico, Canada, and I lived in another country when I was young, but then that would give away my ethnicity. =)
Ah...to dream: Aspiring to be either on the PGA Tour or novelist/screenwriter. Lofty goals, huh?
If you want to chat with me: I can usually be found on Yahoo Messenger as "ebe28". Check the indicator below to see if I am online or leave me a message. I can also be contacted thru AOL Instant Messenger (as "xfmanic"), usually at night or early in the morning. I also have NetMeeting and a webcam. I'm willing to chat to anyone about anything that is on their mind. I love meeting new people from all over the world. Don't be shy! =)
---
Are you an X-Files fan? Visit my website here.

---
If you are a Stargate SG-1 fan, please take a look here.

---
Hopefully, this helped.
Please use your "Back" button to return to the previous page.
HTML Page Design & Copyright © XFManic, 2000, 2001, 2002